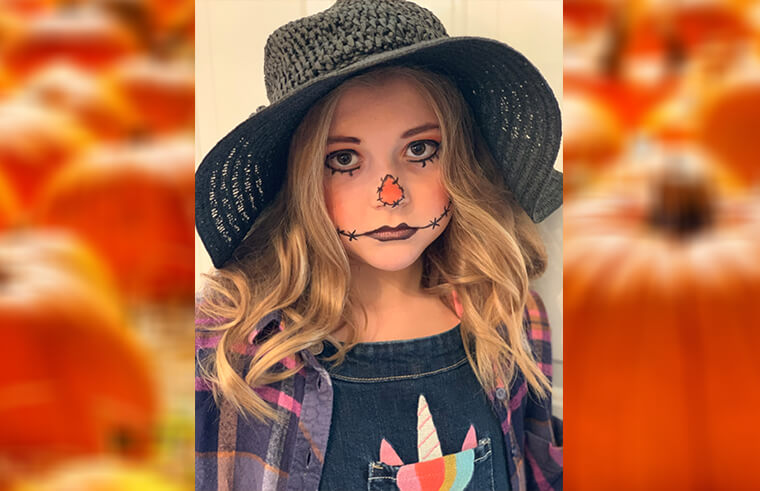 Have you been searching for an inexpensive costume for your daughter? This easy DIY Girls Scarecrow Halloween make-up and costume will stand out but won't break the bank in the process. This Halloween look was a show-stopper last fall and better yet, most of the items were already on hand!
This costume consisted of the following:
Bib Overalls- My daughter already owned a pair but something like this might be a good staple to have. If money is tight jeans would also work just fine.
Flannel shirt- This one was bought at a local consignment store.
Straw Hat- We used an old straw beach hat
The Make-up was bought a Big Lots and the Dollar General. Recreate this look by following this step by step.
Start by applying a light foundation and powder over the entire face.
Opt for a dark burgundy or brown blush. Make sure to vigorously apply to make it dark.
Eyes can be replicated by using a bronze eye shadow pallet, black gel pencil eyeliner, and cover girl mascara.
Darken the eyebrows with a standard brow pencil.
Use a dark brown or black eyeliner pencil to draw on the nose ( eye shadow in the center)
Finally, draw on the lips with the dark brown or black eyeliner pencil, and add a little light pink lipgloss in the middle to make it pop!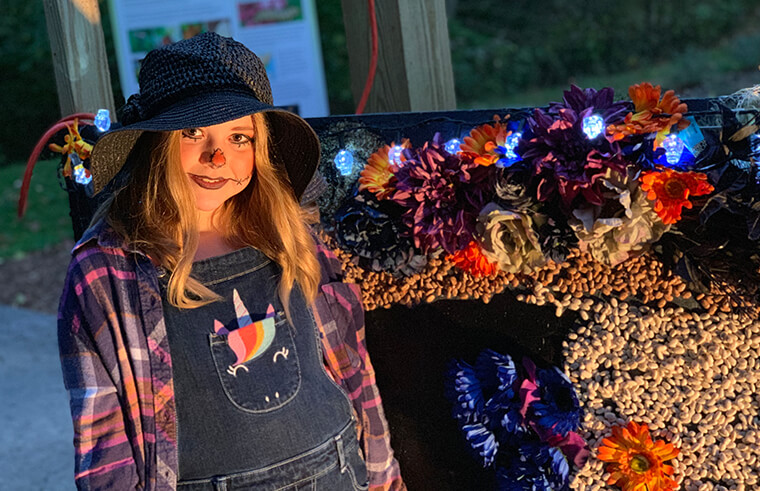 This inexpensive Halloween look was for sure a head turner and my daughter felt confident and happy. Really, that's all that matters. This fall, try something that's Easy Peasy like this Easy DIY Girl's Scarecrow Halloween Costume.
For all of you mamas trying to live a balanced life, don't stress over things that carry very little weight in your life like Halloween costumes. Do yourself a favor and find something easy that can check the Halloween box. Take a deep breath and be happy, and try to stay in the moment. While you're here check out some ways to find balance by developing a morning routine, or how using a bullet journal could change your life.
Stay Spooky, and Stay Strong. You got this!