A Strong Female Boss is someone who "gets it". She understands that she really can have it all and is ready to work for it. I've spent the majority of my adult life setting and crushing my goals in order to live the life I've dreamed of. This process has been fine-tuned over the years but finally, the secret sauce is ready for others to taste. I'm excited to share the Strong Female Boss's Step by Step Guide to Setting and Achieving Goals.
Step 1 | Look At The Big Picture
If you are new to goal setting, start by gifting yourself 30-60 minutes of quiet time to start the process. Start by evaluating the following buckets of life to determine which ones are full, average, or bone dry. This exercise acts as a compass giving you direction. The buckets of life include Family, Relationships, Spirituality, Health, Financial, Career, Recreation. This is oftentimes referred to as the wheel of life. Think about how each one of these important parts of your life stacks up. Take a moment to rank each one in its current state from 1-10. Write down just one thing you could add to this bucket to make make it fuller.
Step 2 | Make A Future Me List
After checking in with your current self, its time to clear our brain all of the things that we have thought, dreamed, contemplated about. Here are a few prompts to get you thinking more about your future self.
What does a perfect marriage/relationship look like to you?
If you had all the money in the world, what would you buy?
What brings you the greatest joy?
What do you like about your job?
If you could travel anywhere in the world, where would you go?
List the things that you want to do before you die.
This is a free for all exercise, go wild. Write down everything, and anything that comes to your mind. Imagine that you are an architect and your Future Me List is the blue print of your life.
Step 3 | Define 12 Month Goals
Now that we understand how full each bucket is and we've dusted off our imagination by creating your Future Me list its time to Envision your future. Highlight the areas that you would like to tackle over the next 12 months. Write down your biggest goals for each area even if it seems scary, do it.
Step 4 | Designing The Vision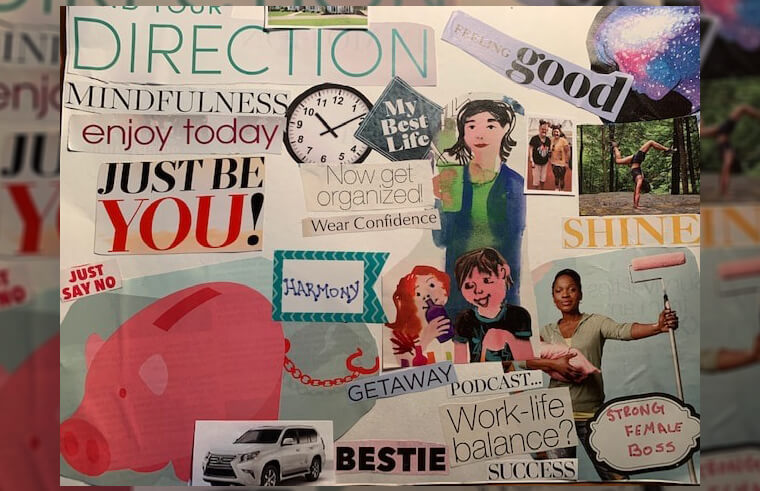 The hard part is over, now comes the fun! I personally have come to love using a Vision Board as a visual aid and a daily reminder of what I'm working towards. Start with a large piece of paper, glue, markers, stickers, and some old magazines. Once all of your supplies are in order, flip through your magazines or perform a simple Google search to find a picture that summarizes your goals. Rip them or print them and then stick them on the paper. Its fun to watch the vision for your life start revealing itself one picture at a time. Once completed, hang your vision board somewhere that you are forced to see it every single day. Doing this makes your goals and admirations real. It's hard to forget what you are working on when your goals are in your line of sight every day.
Step 5 | Stay On Track by Developing a Plan
What is a vision without a plan of action? This is where the monthly plan comes in. A few days before the end of the month give yourself an hour or so to develop a plan for the upcoming month. This can be done using a notebook, planner, or bullet journal. It's hard to move forward without revisiting the past. Before starting to plan the new month, close out the current month by doing some reflecting. Look at your wins, hard moments, lessons learned, things you've enjoyed, and even the hiccups. Then set your intentions for the new month. Basically you are painting the picture of who you want to be this month. Be deliberate in selecting your goals. Look at the areas of your life like spirituality, physical health, relationships, money, and personal and professional aspirations.
Step 6 | Measure Progress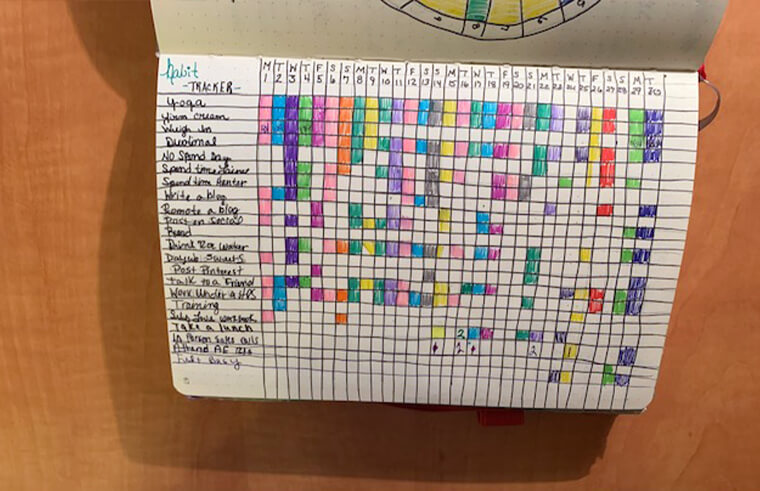 Have you ever heard the saying, "what gets measured gets done"? Your goals are no different. Each month create trackers for the things that you want to accomplish or do more of. This helps hold yourself accountable to creating healthy habits. Not sure where to start? Here are some examples.
Exercise
Waking up early
Reading
Drinking enough water
Daily weigh-ins
Money Spent
Your Mood
Spend time each morning tracking the habits from the previous day. Make this a part of your morning routine. This creates a fun visual aid to measure your progress. It also helps to determine when things got off track before its too late. At the end of the month, it should be easy to reflect on the month, then add or take away habits from next month's tracker.
Step 7 | Break It Down
Sometimes goals just seem too big. Before you actually believe that you can lose 100 lbs in the next two months by starving yourself to death and working out 4 hours a day, stop and remember this helpful tip. Always start by breaking goals down into bite-sized, realistic chunks. This is done by developing a weekly, and daily plan with your goals in mind. Start each week by writing down your 3 top goals and tasks. Take it one step further by starting each day off by defining your top 3 priorities as well. When breaking down your annual goals into months, then weeks, and days it becomes way more manageable to accomplish, especially when you are tracking progress every day.
You Goal Girl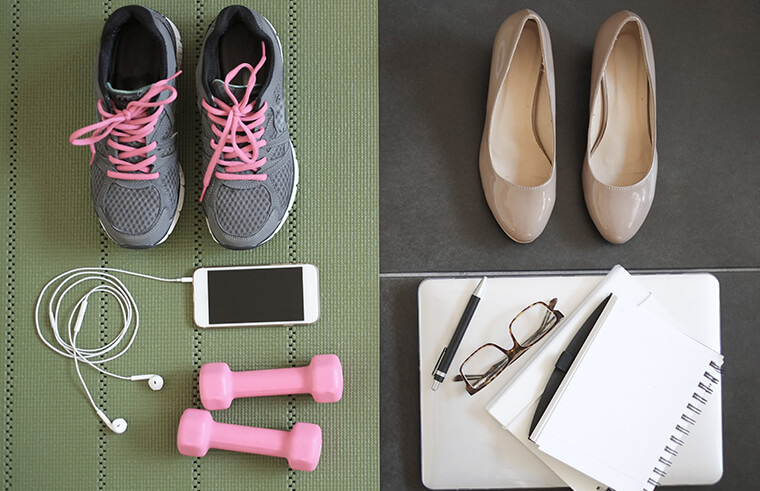 Remember, you are the only one in control of your life. Anything that is dreamed can be done when accompanied by a plan of action. Just because you feel, look, or act a certain way today doesn't mean that is your destiny. Be the author of the greatest story ever told… your life.
Work hard, keep dreaming, and Stay Strong. You Got This!